See which orders used your coupon, or view quick stats on coupon usage at your store.
Once you've created a coupon, you can track its usage in several different ways.
Find orders that involved a specific coupon
Go to Orders > All Orders and select Show Filters.
In the Coupon field, enter the coupon code. You can enter more than one.
Select Apply Filter. The order list will show only orders in which that coupon was applied.
Check that a coupon was applied to a specific order
Go to Orders > All Orders and select Show Filters.
Find the order (e.g. by searching via Order ID or Customer Info). Click Apply Filters.
When the order appears in the list, click the Order ID to open the Edit Order screen. If a coupon was applied, you'll see the coupon code under Service.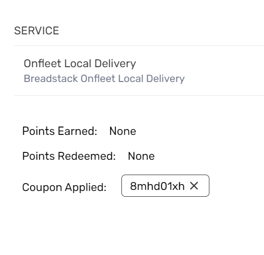 Check how often a coupon has been used
Go to Loyalty > Coupons. You'll see a list of all your store's coupons, both active and expired.
Under the Usage/Limit column, you'll see the number of times each coupon was used versus its usage limit (this limit was set by the coupon's creator).
Tip: To change a coupon's usage limit, or make any other adjustments to its criteria, click Edit under the coupon code in the Code column. See Creating and editing coupons for details.
See a basic summary of coupon usage
Go to Insights > Revenue and set the Report Period as desired.
Scroll down until you see Coupons. If customers used your coupons during the Report Period, you'll see that activity summarized here, including the coupon code(s) used and the number of orders each coupon was applied to.
Tip: Depending on your assigned role in Breadstack, your Dashboard may also include Top Coupons Used data.