Notifications can help you keep track of new and outstanding orders.
Notifications keep you up-to-date on new orders that need to be fulfilled.
This article will introduce you to several different types of fulfillment notifications that can help you manage orders more efficiently.
New orders
The moment a customer places a new order, you'll be notified by a popup in the top right corner of your Breadstack screen. The notification will show essential information about the new order.
To view unread notifications, click on the bell icon located at the top right corner of the navigation bar.
Orders pending fulfillment
Whenever you have orders still waiting to be fulfilled, a red dot indicator will appear on the Fulfillment Module icon in the left navigation panel.
Once all pending orders are picked and packed successfully, this indicator will disappear from the navigation bar.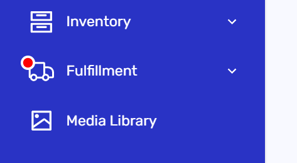 Warehouses with outstanding orders
If your business has multiple warehouses, Breadstack helps optimize operational time by keeping you focused on where actions are required.
Whenever there are pending orders at a specific warehouse location, that location will be highlighted in red in the dropdown in Fulfillment > Pickup & Delivery.