Breadstack uses popup notification to make you aware of orders pending fulfillment, so you can take action where needed.
You can choose which types of notifications you receive, and how often they appear.
Changing your notification preferences
Navigate to Settings > Notifications. You'll see a ribbon displaying all the fulfillment options available to your customers. Select one to manage notifications about orders placed with that fulfillment method.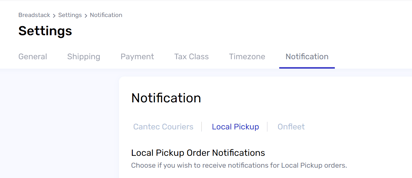 Move the toggle to Enabled or Disabled to control whether you receive this type of notification at all.
Control how long each popup stays on your screen by setting the Notification Duration.
Use the Repeat Notification For Pending Picking Order dropdown, choose whether you see reminders about a single order that is waiting to be picked.
Under Select Warehouses to Receive Notifications, choose the warehouses about which you want to receive notifications.